Handbag Essentials: A Look Inside Celebrity Purses
Celebrity life can be tough. That's why when you're a Hollywood A-lister, it's important to have all the essentials within arm's reach and at the ready. You cannot be caught carrying anything less than a fancy designer handbag. Fortunately for our favorite stars, they have all the money in the world to treat themselves to some of the most luxurious designer investments in the market. However, a handbag and what's inside it are two completely different stories.
So what do the brightest stars in Hollywood stuff their bags with? Do they fill them with candies like most of us mere mortals do? Or maybe they like to keep sunglasses just in case they run into some paparazzi? The possibilities are literally endless. So, if you're interested to find out, then keep on reading. Who knows, you might have something in common with some of these celebrity stunners. You can even steal an idea or two for your next designer handbag purchase. Trust these celebs to always know what's in vogue!
Miranda Kerr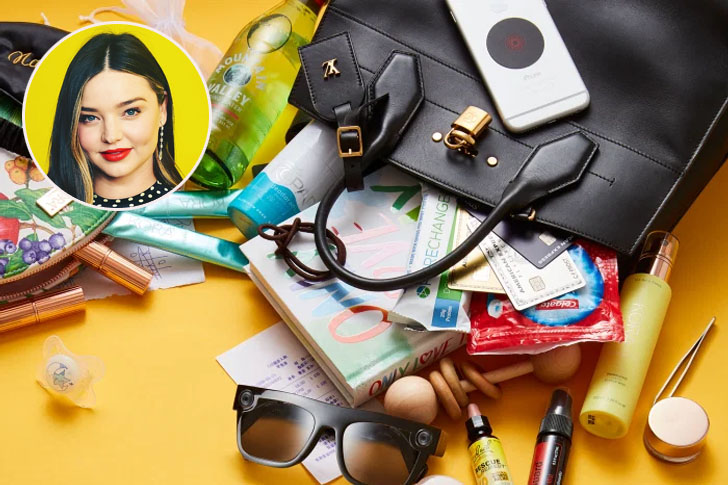 Miranda May Kerr, born on April 20, 1983, is an Australian model and businesswoman. As you can imagine, being a model is not an easy job. Models have to put in a lot of patience, stamina, and hard work to go from castings to casting, and from one country to another. Fortunately, supermodels like Miranda Kerr have all the necessities figured out, and they're all packed and ready to go in her Louis Vuitton handbag.
When traveling, for work or leisure, she brings a comfy sleeping mask, a travel sanitizer, some cleaning wipes, and essential oils. She also brings with her some healthy and organic snacks, a few makeup and skincare products, her wallet filled with insurance and credit cards, a face rose quartz face sculptor, and a bunch of toys and games to keep her kids entertained.
Shakira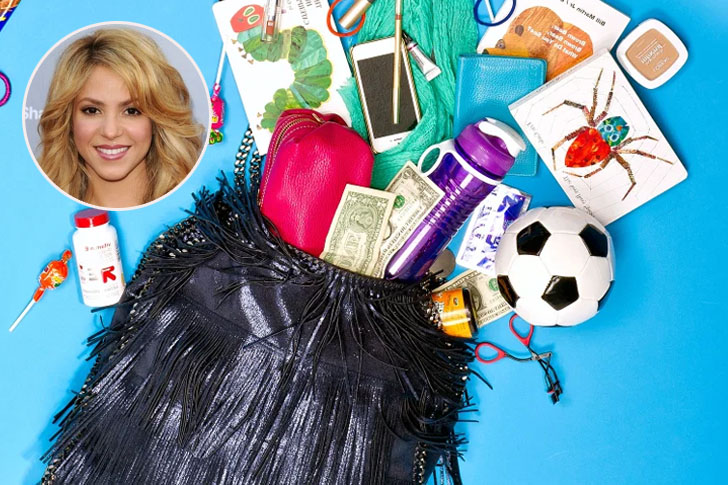 Born on 2 February 1977 in Barranquilla, Colombia, the pop superstar Shakira is no stranger to long haul flights and jet lag. As a global music icon with a handsome credit score, her schedule demands a lot of traveling and performing across opposite sides of the globe. This is probably why her purse is filled with goodies and accessories that are useful for when she's jet setting across the globe.
Some of her basic travel handbag necessities include candies to munch on at the airport, a good 'ole iPhone loaded with music and games, and her go-to drugstore makeup safely stored inside a Furla pouch. Shakira also carries around something unique— a soccer ball. Since becoming a mother, Shakira has been carrying around a mini soccer ball to help her son remember his dad, Gerard Pique.
Megan Fox
Megan Denise Fox is an American actress and model, born on May 16, 1986. Megan Fox is quite superstitious and refuses to put her handbags on the floor for fear that it might bring her financial failure. Now, the origins of her belief may be a mystery, but the contents of her purse aren't.
First off, Megan likes to keep a few beauty essentials like her Aquaphor ointment to keep her skin hydrated, as well as a good Avon perfume. Megan also likes to have a book with her like The Books of Enoch, and a black sharpie just in case she needs to sign an autograph. Lastly, the actress always carries some cash when she needs to tip the restaurant staff. Maybe not putting your bag on the floor can bring good luck and good credit, after all!
Alexa Chung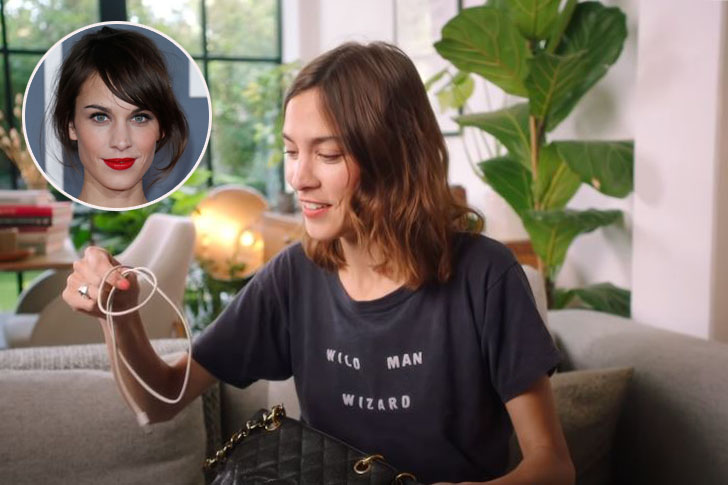 Alexa Chung was born in Privett, Hampshire, on November 5, 1983. She is a British writer, fashion designer, and model. You would think that being a fashion icon would pressure someone into filling their designer handbag with several fancy trinkets and celebrity-grade essentials. However, those rules do not apply to British IT girl Alexa Chung.
Unlike many celebrities, Alexa likes to keep the content of her bags pretty minimalist, with only the most essential products. These include her good 'ole iPhone, her graded contact lenses, her sunglasses, and a few toiletries. She also has a couple of interesting items on her like a forgotten ticket to Naples and a bralette. How and why those ended up in her purse remains a mystery. However, what we can learn from Alexa is to always spend our investment money wisely by purchasing only high-quality products when possible.
Malin Akerman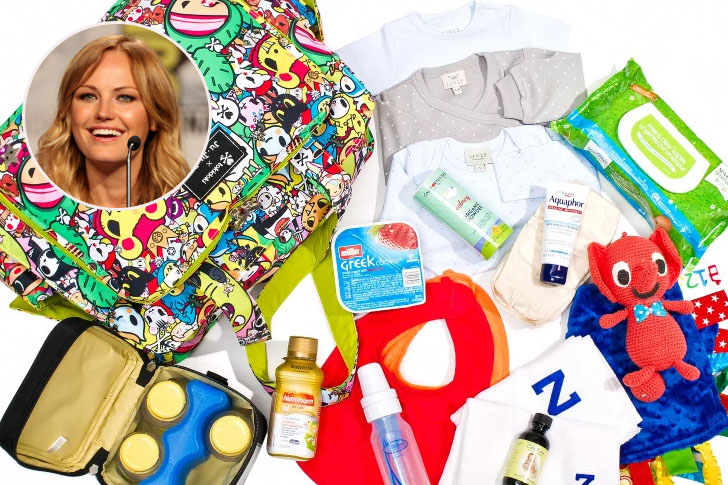 Malin Maria Åkerman is a Swedish-American actress, model and singer. She has been married twice and has a son. Having a baby is definitely no easy task. Not only does it require a lot of money, but it also takes effort and sacrifice. However, that doesn't mean one has to give up style. Good thing we have celebrities like Malin Akerman to show us how to rock motherhood.
Back in 2015, Malin Akerman shared how she copes with becoming a mother by giving people a glimpse inside her celebrity-grade diaper bag. If there are any mommies reading this, you might want to take some pointers. Her baby essentials include a cuddly stuffed toy, a few towels, a couple of Swedish brand baby clothes, and a Medela breast-milk cooler, which doubles as the actress' yogurt cooler. Don't worry, mommies and soon-to-be-moms, these are all worth the investment money!
Ivanka Trump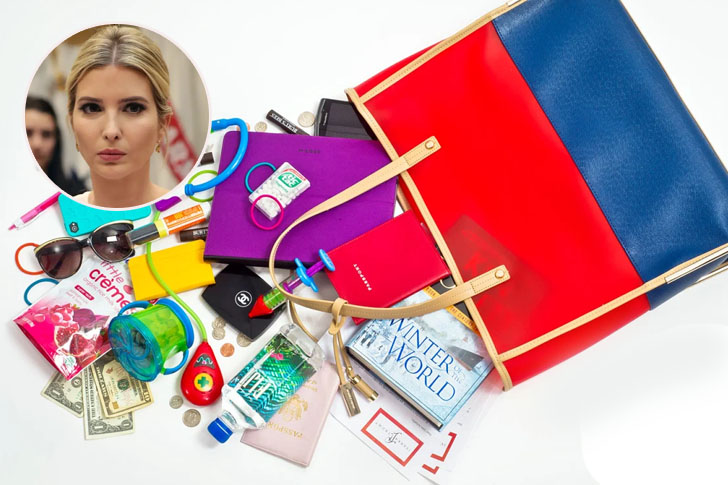 Ivanka Trump, born on October 30, 1981 in Manhattan, New York City. She is the second child of Donald Trump. Ivanka may be an heiress to a billion-dollar empire, but when it comes to her purse, the First Daughter likes to keep it casual. In an interview with Us Weekly back in 2013, the businesswoman and mom opened up about the everyday items she carries with her.
One of the things Ivanka said she likes to carry around is a good book. She said she prefers to read actual books instead of electronic ones, so she doesn't mind carrying a behemoth read along with her other essentials. Other essentials in her bag include a pack of hair ties just in case she has a bad hair day, some sunscreen, a trusty wallet, and toys for her kids. She deserves credit for keeping it low-key.
Jenna Dewan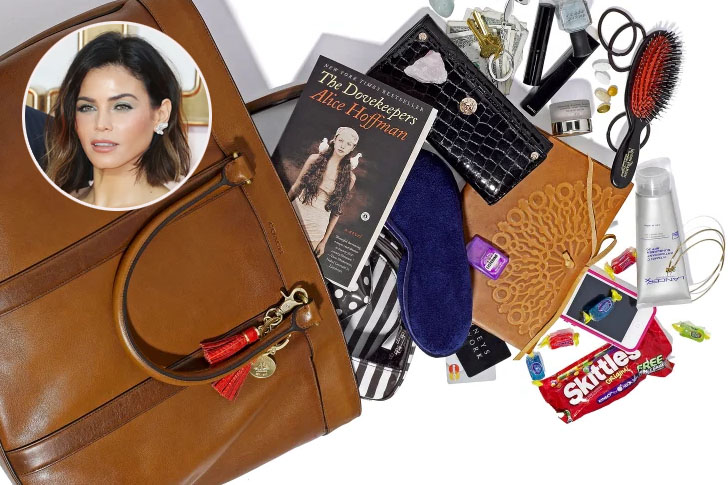 Jenna Lee Dewan is a gorgeous American actress and dancer, born on December 3, 1980. Ever wonder what the gorgeous Jenna Dewan carries around whenever she's running her daily errands? Well, just like most of us, Jenna also brings along her handy makeup bag. According to Us Weekly, the actress is never without her Henri Bendel makeup case. Other items in her Coach purse that the actress swears by are her trusty Mason Pearson hairbrush, a comfy sleeping mask, and an iPhone.
However, what's interesting about Jenna's essentials is the crystals she carries around with her. Aside from her designer pouches and high-end makeup, Jenna also brings along aquamarine and rose quartz crystals. According to Jenna, these crystals are helpful when it comes to balance and energy. If you believe in the power they have, these are worth the investment.
Tiffani Thiessen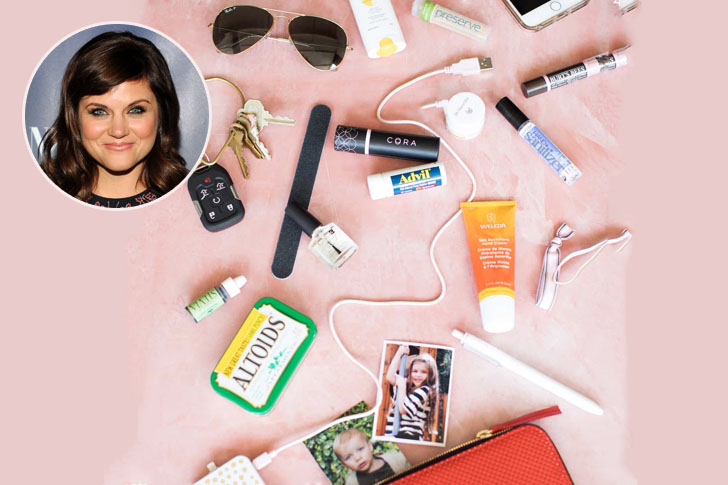 Tiffani Amber Thiessen, known for her starring role as Kelly Kapowski on NBC's Saved by the Bell. When it comes to handbag essentials, we can all learn a thing or two from actress and lifestyle blogger Tiffani Thiessen. Tiffani is a big fan of bag raids, and so she took it upon herself to share what's inside her trusty purse.
Here are some of the things she cannot leave her house without; first, we have the basics such as the iPhone, her wallet with pictures of her kids in it, a set of keys, a charger, and a pair of aviator sunglasses. She also likes to carry Advil to help with migraines, stevia sweetener, hand cream, sunscreen, lipstick, and a pack of Altoids mint. All essentials that are worth the small amount of investment money you'll use to purchase them.
Lena Headey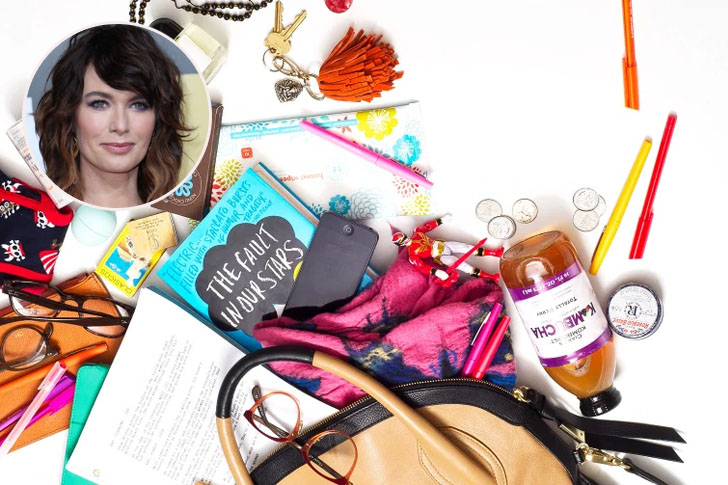 Lena Kathren Headey was born in Hamilton, Bermuda, on October 3, 1973. We may never know what Cersei Lannister keeps in her purse, but here's what Lena Headey stuffs hers with. First off, the actress carries with her a ton of lip balm! According to her interview with Us Weekly, Lena likes to keep her lips moist and protected from the harsh California sun, so she ends up keeping more lip balms than she needs.
She also likes to lug some kombucha and a scarf spritzed with her favorite perfume, because why not? Since Lena is also a working mom, this means she also needs to have some mommy essentials like extra underwear for her toddler and some Ninja Turtle action figures to keep her little one busy. Those are pretty worthwhile investments, don't you think?
Camila Alves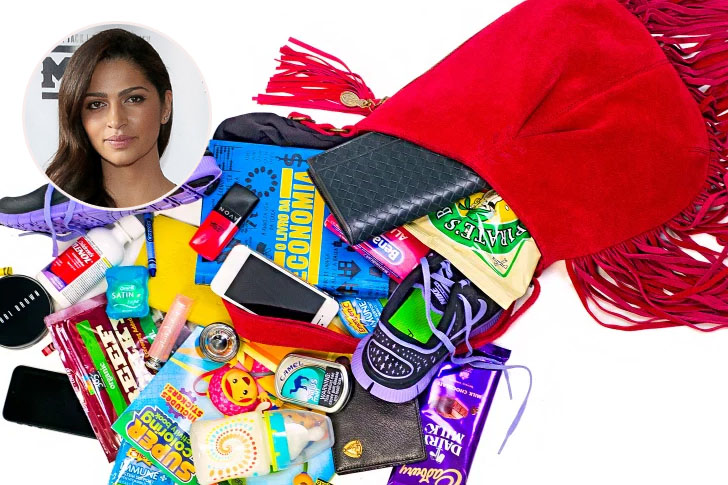 Camila Alves is a Brazilian model and designer. She loves handbags very much. She even used some of her investment money toward establishing her own handbag business called Muxo. But what does the mom of three have inside her own glamorous purse? Well, for starters, she has some mom-grade essentials perfect for traveling with kids like coloring books and candies.
Camila also has a book and a trusty mascara with her at all times. However, what's adorable about her stash is the Spanx and underwear she carries whenever she has a shoot. Camila's a bit shy about it, but let's face it, most of us would do the same if we were in her position. But I guess we can all agree that Camila looks gorgeous whether she decides to use Spanx or not.
Jennie Garth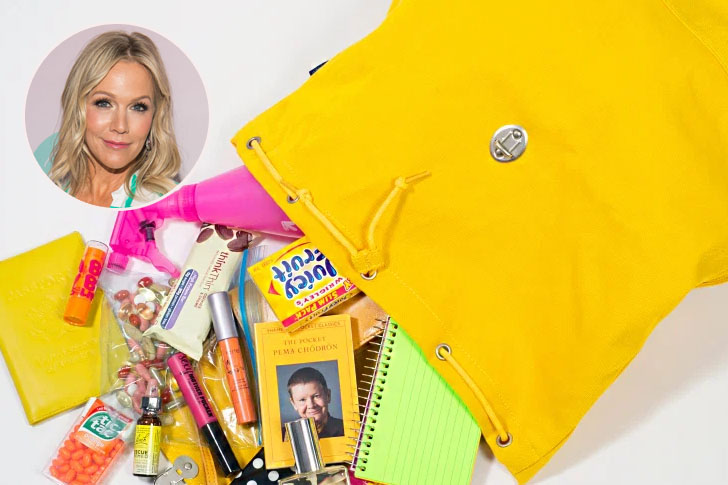 Family Holidaze star Jennie Garth is an American actress, known for her starring role of Kelly Taylor in the Beverly Hills, 90210 franchise. She is obsessed with the color yellow. Just take a look at her Baggu backpack and passport cover. However, aside from the sunny color, Jennie's bag also has a few other useful items. She has stress relief products like her Bach Rescue Remedy. Jennie also invested in a book filled with inspirational quotes to keep her motivated.
For the beauty stuff, Jennie said that she likes to have a good lip balm and perfume at the ready, so it explains the Tarte Lip Surge and the My Jus D'Amour perfume she has in her backpack. Lastly, the actress likes to be healthy so she has vitamins wherever she goes. It sure is good to see her treat her health as an investment!
Gwen Stefani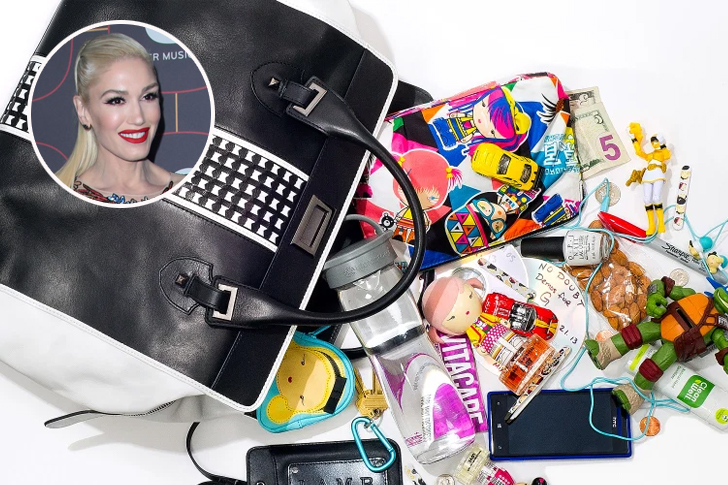 Global pop superstar Gwen Stefani, born on October 3, 1969, is an American singer, songwriter, record producer, and fashion designer. She has been all around the world and back. So having her essentials packed and ready in a single handbag should be of utmost importance. Some of the things this busy mom keeps with her at all times include a bunch of healthy snacks, water for hydration, some nail polish, and a few toys for her sons.
As for her professional needs, Gwen always brings the latest CDs of her band's recorded songs. She says this helps her keep track of their progress and note any possible input she has. Of course, she also brings her favorite Harajuku perfume. So if you want to get your hands on the same items, it would be best to work on your credit score first.
Jenny McCarthy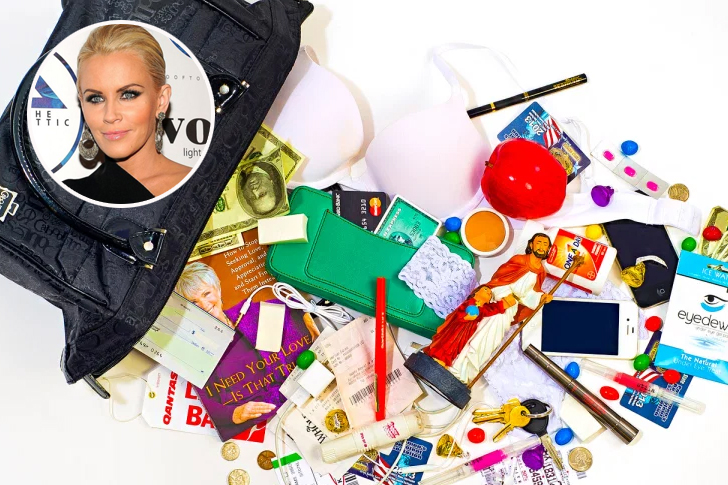 Jenny McCarthy is an American actress, model, and television host, born on November 1, 1972. She admits that she has a bit of a sweet tooth, and it's affecting her handbag game. The American T.V. presenter and model said in an interview that she always brings chocolate to the point where some have melted in the bottom of her handbag! Now, don't worry, we're sure she can still clean it out.
Aside from melted chocolates, Jenny also carries with her a relationship book, some handy eye masks, and a figurine of St. Joseph. She also has a couple of other knick-knacks in there like lipgloss, collected receipts, and a few pens. This is similar to what most women would keep in theirs, right? We just hope the degree of chocolate staining in her bag isn't too severe!
Christina Applegate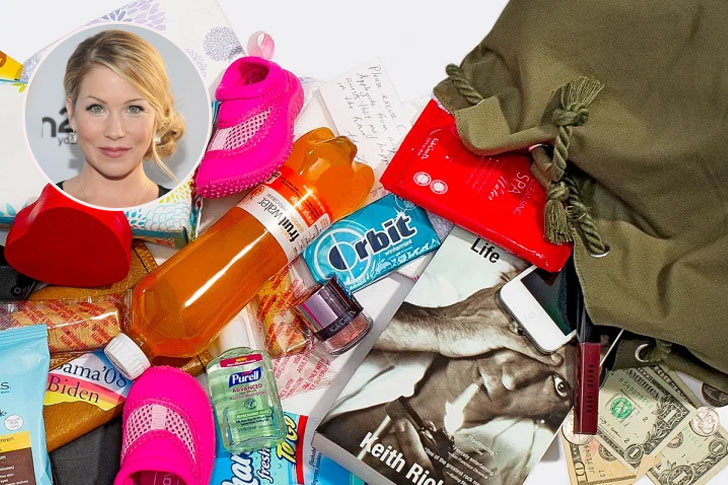 Christina Applegate, born on November 25, 1971, in Hollywood, California, was starred as Kelly Bundy in the sitcom Married… with Children. She is now a busy actress and mom. So when it comes to juggling her everyday life, she has one requirement — a handbag with several pockets. Why? Well, she needs to fit both her personal and mommy essentials in one convenient yet fashionable bag. Some of the usual stuff she carries includes, wipes for her and her kids, sanitizers, some gum, snacks, keys, and her phone.
She also has a few unique items, like the rock her daughter passed through in 2012! There's also the business card her police fan gave her. Christina carries it around just in case she runs into trouble and needs a pass from the police. Perhaps she should consider getting insurance on top of the "police pass" as well!
Tyra Banks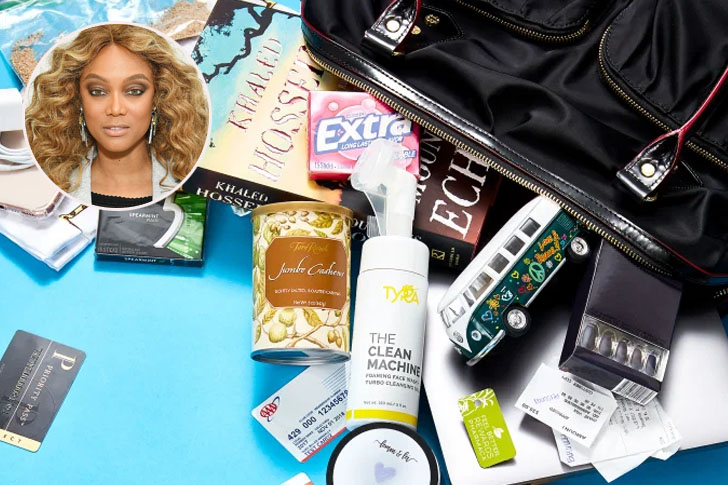 Tyra Lynne Banks, who was born in Inglewood, California, is a model, television personality, actress, and businesswoman. Being a supermodel is no easy feat. Like a soldier, models have to earn their stripes on the runway. To do that, they need to be on their toes and ready to go at all times. So what do models and supermodels bring with them when they hit the showroom flooring?
Let's take a look at Tyra Banks' handbag to get some idea on how supermodels live. Tyra likes to separate business from personal affairs, so she has a stash of receipts inside her bag labeled 'personal' and 'business.' It might be a little over-the-top, but we call it genius. She also has a couple of beauty products at the ready, like her Lemon & Lei body butter, lipstick, and a few others.
Maria Sharapova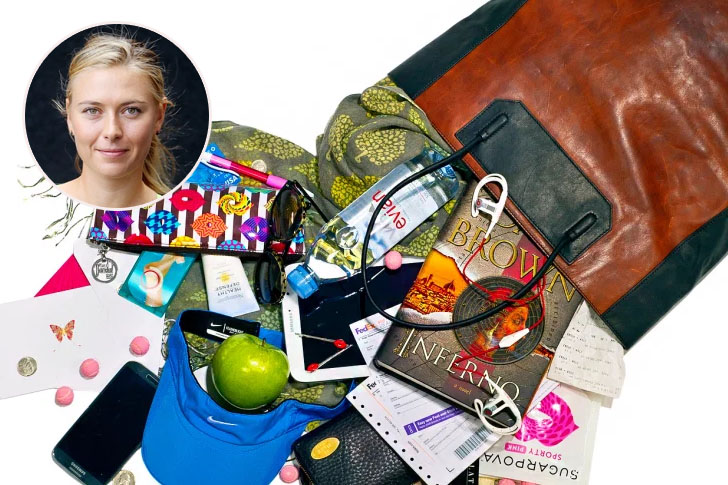 Maria Yuryevna Sharapova is a famous Russian former tennis player. As a tennis star who jet sets across the globe, Maria Sharapova needs to have everything she needs at the ready. Although she is a world-class athlete, her essentials aren't too different from the normal person. Some of her most basic essentials include a universal adapter, a sharpie for when she needs to sign an autograph, a Hermès notebook to jot her ideas on, her Nike visor, and a few snacks.
The tennis champion also likes to carry beauty and fashion items like a pair of foldable ballet flats, Kanebo Sensai mascara, sunscreen, and her Stella McCartney perfume. However, it's her diamond-encrusted tennis bracelet that takes the spotlight. Despite costing quite a bit of investment money, there's hardly anything overly indulgent about her essentials.
Sharon Osbourne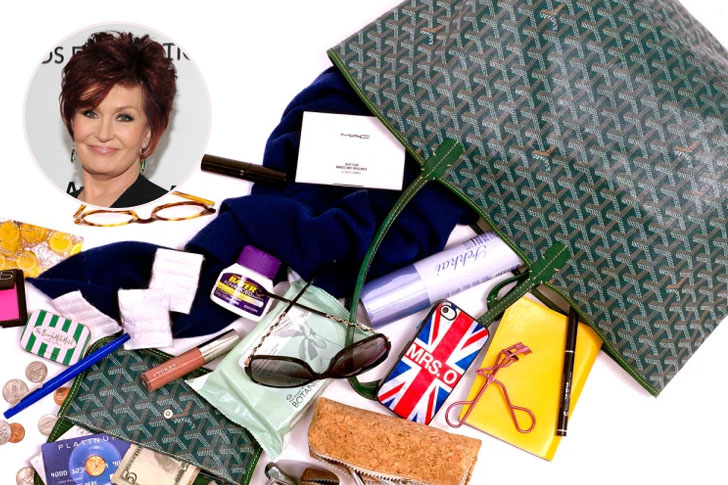 Sharon Rachel Osbourne is a British-American reality-TV star, entertainment manager, and author. Also, she is known for her designer handbags. However, not a lot of people shine a spotlight on what's inside those luxurious fashion investments. Fortunately for us, we were able to find out what items Sharon likes to carry with her daily. It seems that she has everything a star should have in the bag.
As a celebrity, Sharon needs a couple of celebrity-grade essentials, like a pair of fancy sunglasses, a magnified mirror to make sure her makeup is always on-point, some blotting papers for emergency touch-ups, and some cinnamon-flavored toothpicks just in case something gets caught in her teeth. She also has a fancy makeup kit filled with basic makeup necessities, like Terry Laque de Rose lip care balm, Sonia Kashuk mascara, Nars blush, and a Cle´ de Peau Beaute Conceale´ concealer.
Salma Hayek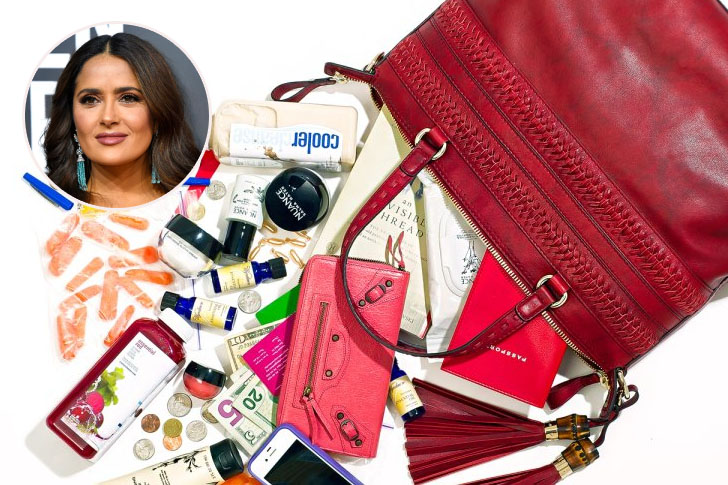 Salma Hayek Pinault is a Mexican and American famous actress and producer. She is one of Hollywood's most fashionable women, and that extends to her handbag habits. Not only does the actress own several luxury totes, but she also likes to stuff them with glamorous items, like makeup. The actress even admitted that her purse looks more like a giant makeup kit than an actual handbag.
However, Salma Hayek does carry a couple of non-makeup items like a book, a healthy drink, a hand cream, and aromatherapy oils for boosting her mood. However, Salma's most prized items in her handbag are the trinkets her daughter gives her before she leaves the house. Isn't it adorable that despite her the different luxury investments she owns, her most treasured item is still something money cannot buy?
Christa Miller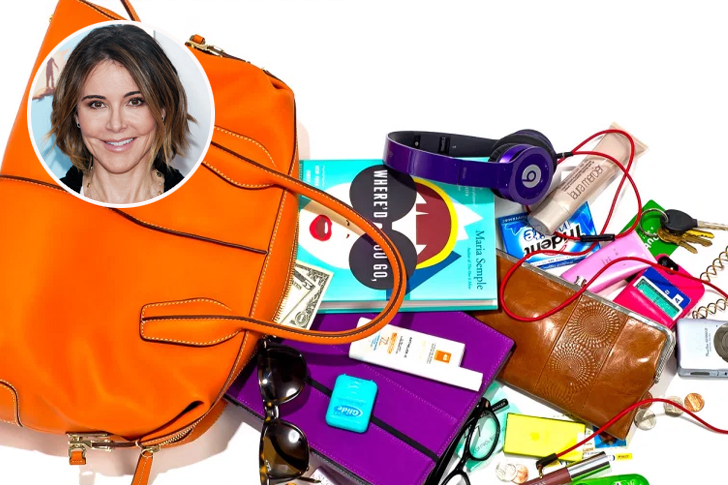 Actress Christa Miller is no stranger to the hustle and bustle of Hollywood life. Having been in the industry for 35 years, she has mastered the art of packing for Tinseltown. It's also important to note that everything about Christa's essentials starts with the bag she carries. According to Christa, a good bag goes with any outfit. In a fashion-conscious world like Hollywood, a degree of attention is always given to these details.
Moving on, let's round-up the items Christa always has with her. First off, Christa carries a pair of sunglasses, which is sort of mandatory for Hollywood celebs. She also has a pack of bobby pins to tame loose hairs. Christa is also a photographer, so she likes to have a good camera at the ready. People can easily find her works on social media.
Jessica Alba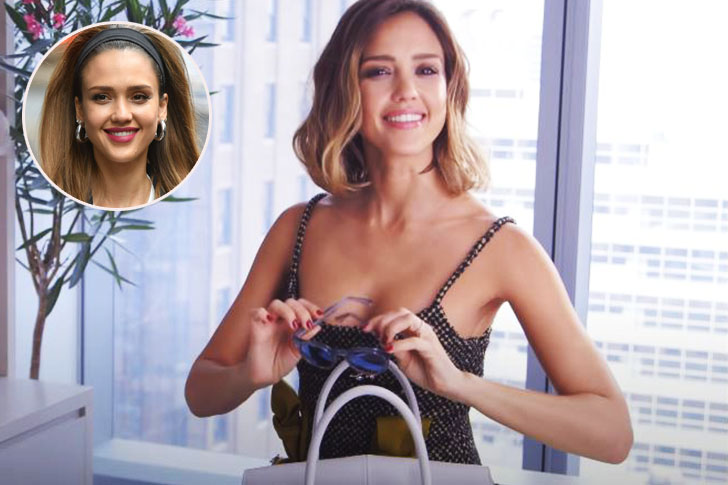 Actress-turned-business-mogul Jessica Alba is a pretty busy woman. In 2011, Alba founded The Honest Company with others, selling baby, personal, and household products. As a businesswoman she usually has a few unique items on her that'll help her navigate through her schedules. In an interview with Allure back in 2015, Jessica shared some of her most prized essentials.
Some of the items found inside her stark white Birkin handbag include a handy pair of stylish sunglasses, a Chanel wallet, a Chanel credit card holder, and a make-up kit to store all her beauty essentials. Some of the items she shared included a lip gloss, a hydrating mist, a primer, and a concealer, all from her brand Honest Beauty. I know what you're thinking, if it's good enough for Jessica Alba, then it might be worth the payday loans.
Kristen Bell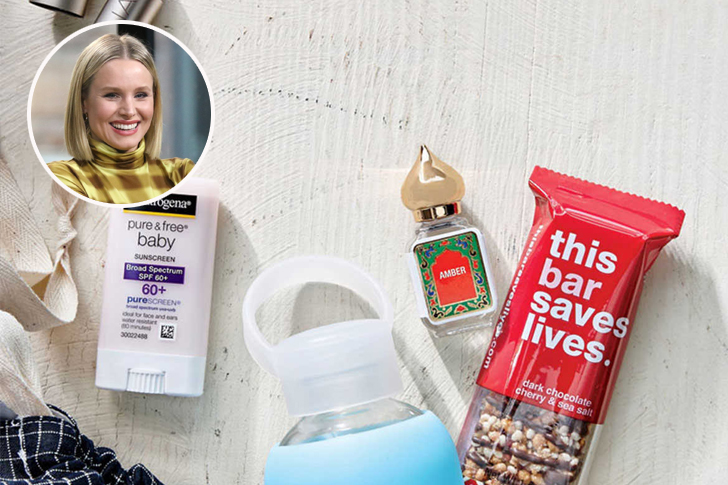 Kristen Anne Bell is an actress, singer, and producer. You will never forget her in the CW series Gossip Girl, she voiced in every episode in the beginning. Kristen may be one of the brightest stars in Hollywood today, but when it comes to her everyday essentials, she likes to keep it minimal. She is a mom now, after all, so getting rid of the unnecessary items helps her stay organized.
Kristen's makeup kit, for one, does not go beyond the basics like sunscreen, a tube of lipstick, and some makeup wipes. She also doesn't like to go hungry on a busy day, so she always packs a healthy snack like an organic granola bar. She pairs her healthy snack with tons of water, so you'll always find a bottle in her purse. You can really tell that Kristen treats her health as an investment, and we can all learn from her healthy habits.
Ronda Rousey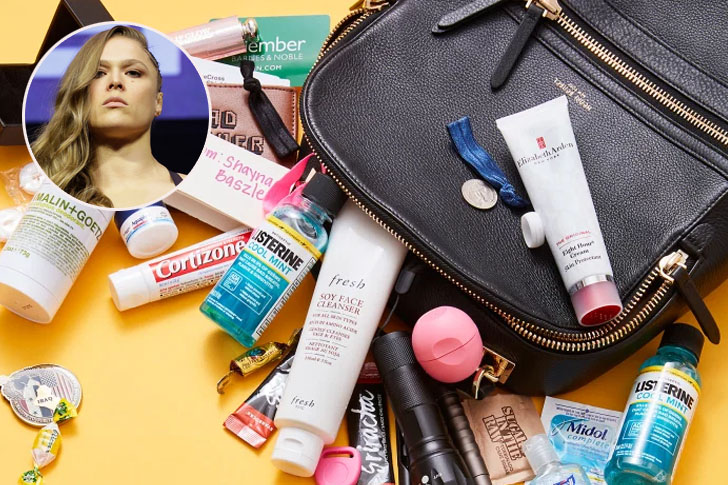 Ronda Jean Rousey is an American mixed martial arts athlete who rose to fame by winning a series of matches in the early and mid-2010s. Rousey began her career in 2010 as an amateur. Now, she is a full-blown martial arts superstar with a very nice credit score. A champion's handbag has all the essentials like mints, candies, a pair of sunglasses, high-end makeup and skincare products, some deodorant, and of course, sunscreen.
However, it's the little trinkets that take the spotlight out of all the items inside her bag. These include a note from a good friend, her wedding band for when she needs to swap out the real ring while she's in a match, a worn-out wallet, and finally, a bull shark's tooth that she considers her lucky charm. From this point of view, Rousey still has a very cute side.
Anna Faris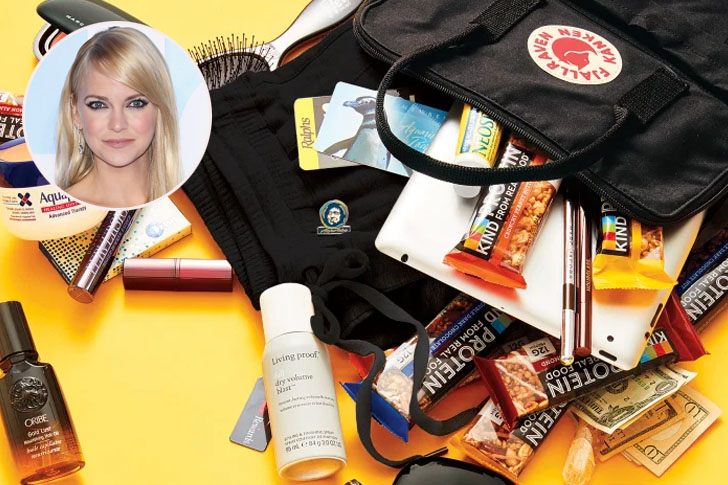 Anna Faris is, by far, one of the funniest women in Hollywood. Faris married Chris Pratt in 2009, and has a con, Jack. She is also a hard-working mom, which makes her everyday life a bit more hectic. It's a good thing she knows how to pack for her particular lifestyle. Unlike most celebrities, Anna does not carry around a designer handbag. Instead, she sports a Fjällräven Kånken backpack filled with all the necessary celebrity-grade items.
Inside you'll find her stash of snacks, her go-to makeup and skincare products, air pods, an iPad, and a bottle of dry shampoo. Anna also travels a lot, and she likes to be comfy when she does. That's why you'll often find a change of clothes like matching sweats inside her backpack. For people with active lifestyles, the backpack is a great investment!
Hannah Simone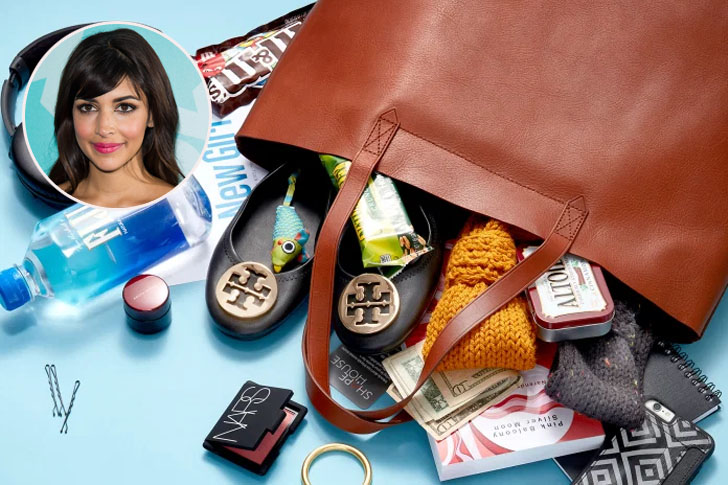 We all know Hannah Simone for her quirky and funny character in the sitcom New Girl. It seems like that also translates to her handbag packing habit. In an interview with Us Weekly, Hannah shared the contents of her Madewell handbag and joked about it being apocalypse-ready.It contains some of the most random items like cat toys, hairpins, a pair of Tori Burch ballet flats, and a pair of wireless headphones.
It's her anti-paparazzi phone case that's of interest, however. If someone were to take a picture of her while she's holding it up, all they'd be able to capture is a flashback and a black background. It's quite a neat item to own, and we bet it's worth the investment. After the interview, every Hollywood star may hold this phone case in the future.
Laverne Cox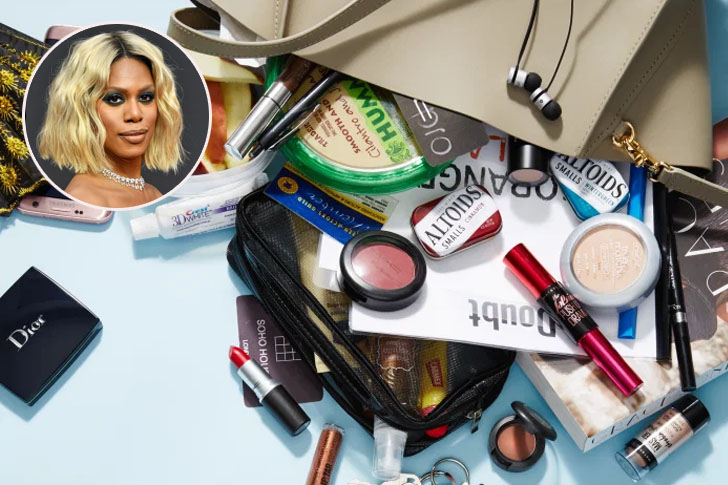 When you're as busy as Laverne Cox, you'd probably want to have all your essentials ready and in one place. Fortunately for Laverne, she can count on her purse to do just that. Inside it, you'll find some of her most basic necessities like breath mints, a wallet containing her credit cards, makeup and skincare, an iPad, a pair of AirPods, a bottle of Bath & Body perfume, and a dental hygiene kit.
She also carries around a tub of hummus– because who knows when she might need it! "Always keep something for a rainy day" never goes wrong. Lastly, she also has a black fan inspired by the movie Gone With The Wind. It's definitely an interesting mix of items, but we're sure they help the actress get by during a workday.
Kelly Ripa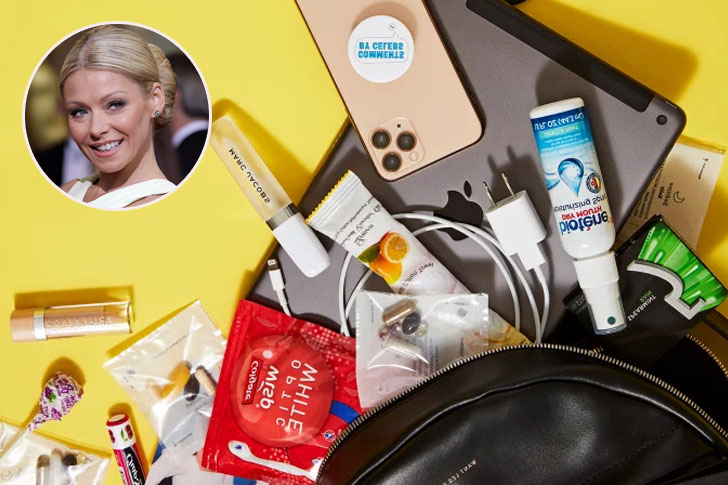 Kelly Ripa is an actress, dancer, talk show host, and television producer. Just like the other ladies on this list, Kelly is also a busy woman trying to balance a very successful media career along with motherhood. Just like the other moms on this list, she has also created her own combination of handbag essentials, starting with health-related items.
Since Kelly's work schedule can be unpredictably hectic, it's important that she stays in good shape, and she does so by bringing her vitamins everywhere. This allows her to take them whenever needed. She also packs a dental hygiene kit and a bag full of makeup and skincare. However, Kelly's most prized possession is a picture of her kids that she keeps inside her wallet, together with her insurance cards. Such a sweet gesture, don't you think?
Judy Joo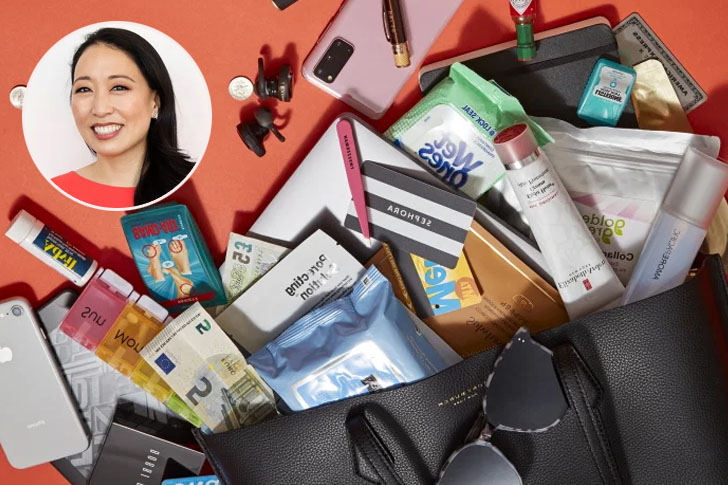 If you get on the same plane as American chef Judy Joo, you'd probably spot her right off the bat. Why? Well, because the chef likes to treat her skin to a good mask during long haul flights. Apparently, Judy is obsessed with Korean skincare, which is why she always stuffs her bag with face masks and face creams. But those are not the only travel essentials you'll find inside Judy's purse.
She also has with her a handy travel sanitizer for disinfecting surfaces and small tubs of Tabasco sauce just in case the food on the plane is bland. Our sense of taste decreases by a degree the higher the plane goes up, after all. Needless to say, she's a foodie wherever she goes! Also, as every Korean, pays attention to her skincare.
Andrea Canning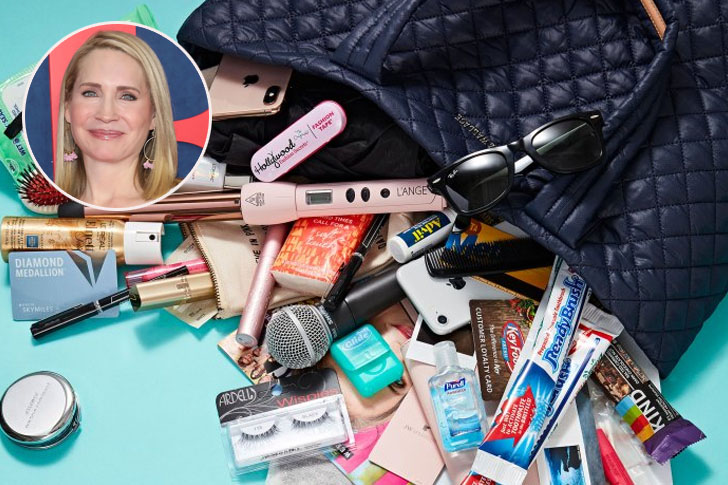 Our list is full of busy-bees and Andrea Canning is no exception. As a correspondent for NBC's Dateline, Andrea must always be packed and ready to go. Given her experience, the journalist has mastered the art of packing and adjusts it to suit every need. Inside Andrea's bag, you'll find a plethora of items, starting with her main essentials like her makeup and skincare kits, her wallet where she stores her credit cards, sunglasses, and some snacks.
The other, more important, kit inside Andrea's purse contains all her tech and work equipment. It is hard to deny that Andrea is quite a professional journalist. This kit includes her portable microphone, fashion tapes, a can of hairspray, and lastly, a metal angel engraved with the words "I'm always with you." which reminds her of her mother.
D'arcy Carden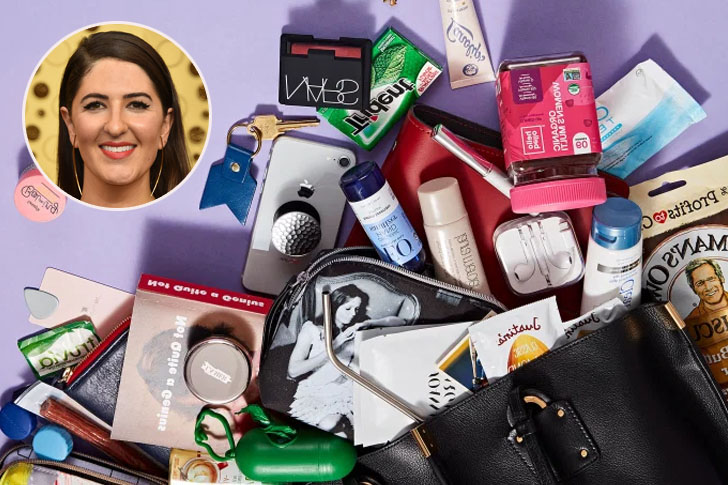 D'Arcy Beth Carden is an actress and comedian. She is well known for acting Janet in The Good Place (2016-2020). After living in New York for a good ten years, The Good Place actress D'Arcy Carden has learned the importance of being able to fit everything she needs inside a small purse. However, upon closer look, it seems like the actress packs more than just the essentials.
First, her handbag is filled with mementos like a guitar pick she got from a Radiohead concert, a plastic dinosaur spray-painted gold from her sister's wedding, a little league card belonging to her husband, and a pack of organic sweeteners. Quite interesting, isn't it? Of course, she still has some Hollywood essentials, like her wallet with insurance cards in it, a makeup kit, and some organic snacks. All the basics a Hollywood actress might need daily.
Jennifer Coolidge
Actress Jennifer Coolidge has been in the industry for quite some time now. She has played some of the most iconic characters on film and TV, such as Jeanine Stifler in American Pie (1999-2012), and Fiona in A Cinderella Story (2004). With 27 years under her belt, you best believe Jennifer has got her purse essentials perfected.
In an interview with Us Weekly, she revealed some of the contents of her bag, which includes a Knut Hamsun book, some keys which hang from her bedazzled key chain, a shawl for when she gets cold, a wallet that holds her credit cards, a makeup kit, and some snacks. However, it's her dad's Harvard medallion that steals the spotlight. It was given to her after her dad passed, and she now carries it as a way of keeping her father close.
La La Anthony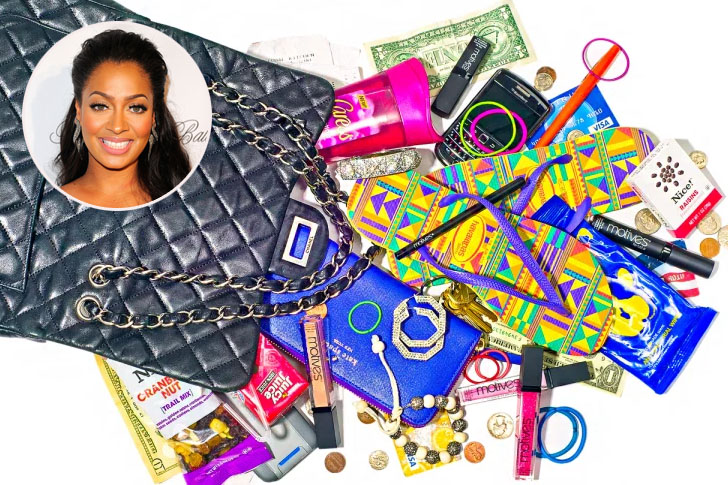 Alani Nicole "La La" Antony is an American television personality, actress, and author. Being an actress in Hollywood is definitely not for the faint of heart. Good thing actress La La Anthony is willing to give some pointers and suggestions when it comes to packing bags for that Hollywood life. First off, the actress always takes her script so she can practice and perfect her lines before stepping foot on set.
But La La is also a mother, which means she needs to have some mommy equipment at the ready. One of her many mommy-essentials is her Canon camera. She said it's quite handy when you want to capture every single memorable moment of your child's growth. She also splurges to a degree on some designer accessories like her Hermes wallet and fancy sunglasses.
Ciara
Ciara Princess Wilson Harris is a singer-songwriter, dancer, model, and actress. Hip-hop sweetheart Ciara knows what it's like to hustle in the industry. From a young age, she had to work hard to get to where she is today. And while doing that, we're sure she's conjured up her own combination of handbag essentials, perfect for the everyday grind. So what on earth does she carry around?
The singer's designer purse contains different tech essentials like her MacBook, phone, and charger just in case she needs to work on the spot. You might be surprised to learn that she also brings Tabasco sauce and a few packets of salt and pepper in her handbag. Seriously, we need to steal that idea! Ciara obviously has her handbag game down, so all credit to her.
Denise Richards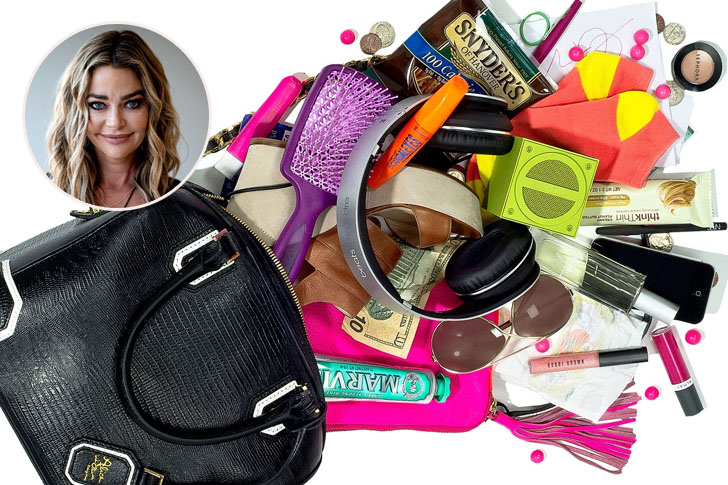 If you are a mom and a well-known face in Hollywood, then there are a few things that you need to pack at all times. For Hollywood actress-turned-reality star Denise Richards, it's all about efficiency. Denise has two daughters with Charlie Sheen and after divorcing she adopted a third girl in 2011 as a single parent.
The mom of the three, her bags are always filled with functional things like socks to keep her feet clean at the check-in, a dental hygiene kit to keep her teeth clean after every meal, an iPhone speaker for music, and some snacks for her kids. Denise also carries beauty items like a Nars lipliner, Bobbi Brown lipgloss, blusher, Almay lip balm, Benefit concealer, and a Rimmel London mascara. She also believes that quality perfume is a good investment, so she has a Kai Eu de Parfum.
Jennifer Carpenter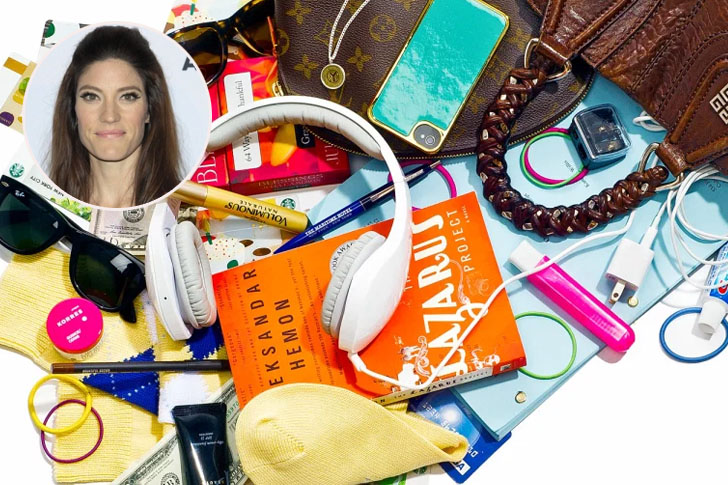 When it comes to packing her everyday essentials, Dexter actress Jennifer Carpenter likes to keep it interesting. The 40-year-old actress is not only an actress but also a mother and needs to keep her son in mind when preparing her everyday purse. Some of the items she likes to carry with her on a daily include crossword puzzles, a black leather wallet, her phone chargers, a few makeup items, some on-the-go skincare products, some insurance cards, and a set of keys.
Jennifer Carpenter has a few more interesting items, however, such as clean coffee lids for her son to play with, an old gift card, a Tupperware filled with soup or any type of packed lunch, and of course, a script of whatever project she's working on. It is no difficult to see that this actress is like all other mothers.
Mel B.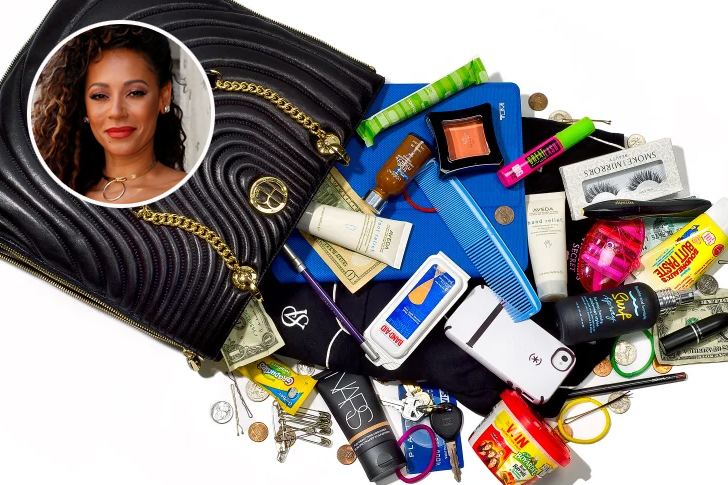 Melanie Janine Brown aka Melanie B or Mel B, is a British singer, rapper, and actress. Former Spice Girl and talent show judge Mel B. knows what it's like to be under pressure during Hollywood events and tapings. This is why she makes sure she fit all sorts of emergency kits in her designer handbag. One of those emergency kits is a sewing kit that Mel B. prepared just in case she has a wardrobe malfunction.
Mel B. also invested in a couple of Bumble hair care products and a range of luxury makeup items. Scary Spice also has a couple of snacks on her, such as a pack of ravioli and some candies. As you can tell, Mel B. always comes prepared for every situation, and we do have to give her credit for being such an organized celebrity.
Busy Phillips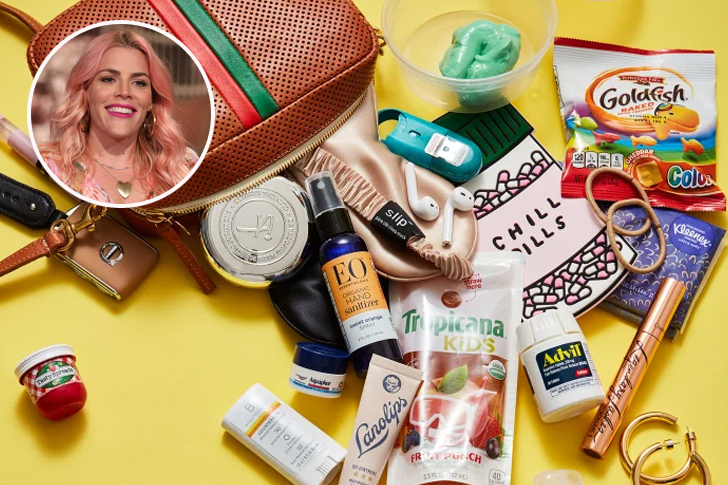 Elizabeth Jean Philipps, better known as Busy Phillips, born in Oak Park, Illinois, United States, is an actress and writer. She has made quite a successful career for herself in Hollywood. Because of that, she now enjoys a comfortable life, with a good credit score. However, have you ever wondered how this mom handles the daily Hollywood grind?
As it turns out, the key is inside her purse. The actress likes to keep everything she needs in her handbag. In it, you'll find mommy essentials like snacks and toys to keep her kids entertained. She also has a few trinkets for herself, like balancing crystals and a few makeup and skincare products. As you can tell, Busy is no different from other celebrity moms on our list. They certainly deserve lots of praise for managing everything, while still looking beautiful.
Britt Robertson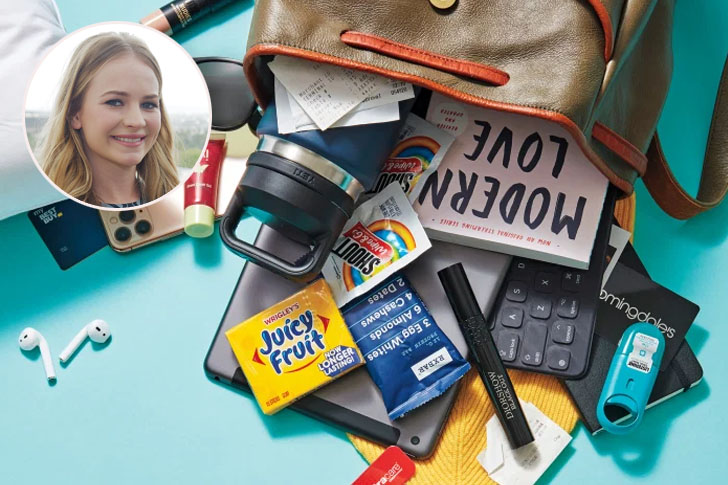 Britt Robertson, born in Charlotte, North Carolina, on April 18, 1990, is an American actress. She has come a long way since playing a stereotypical teenager in Hollywood and is now a full-fledged celebrity with a handsome credit score to boot. Now that she's looking forward to a busy career, the actress needs to pack all of the essentials that will help her navigate her daily schedules.
So what does Britt bring along now that she is a legitimate star in Hollywood? For starters, she likes to carry sentimental keepsakes like an old restaurant receipt from when she found out she landed a big acting role. Britt Robertson also has some Hollywood-grade essentials like a pair of sunglasses, a tube of lip balm, an iPad, stain remover wipes, a comfy travel pillow, some snacks, and a Yeti water bottle.
Jamie-Lynn Sigler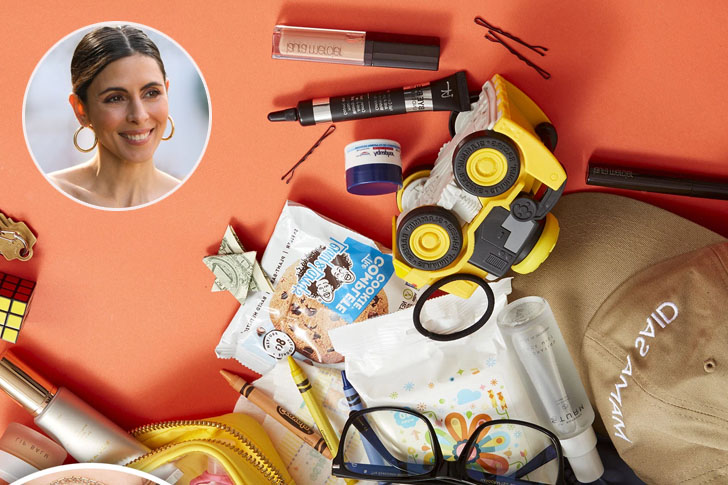 Next on our list is the hardworking Hollywood momma, Jamie-Lynn Sigler, who was born in Jericho, New York, on May 15, 1981. The actress rose to fame playing Meadow Soprano in the HBO hit series, The Sopranos. After a few years of building her acting career, Jamie-Lynn is now a certified celebrity with multiple investments under her name. She also released an album Here to Heaven, which was totally a failure.
But have you ever wondered what this superwoman carries around with her on a normal day in Tinseltown? First off, we have a Rubix cube keychain, which Jamie-Lynn attaches to her bag for her son to play with. She also has a couple of useful items like a pair of blue-light blocking glasses, a makeup kit, a pack of hair ties, and a folded $2 bill, which she considers her good luck charm.
Larisa Oleynik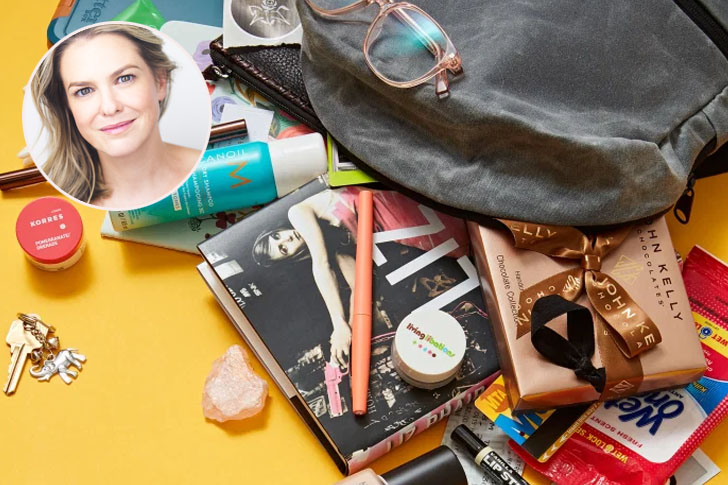 Larisa Romanovna Oleynik was a teen idol in the 1990s and now is an actress, starring in the film adaptation The Baby-Sitters Club (1995). When it comes to her handbag essentials, Larisa Oleynik loves to load up on moisturizing products. After moving to New York from Los Angeles, Larisa spent some time adjusting to the colder and wintry weather of the East Coast.
So when you look inside her bag, you'll find products like a Kores pomegranate lip butter, hand creams, hydrating SPF sunscreen, and a bag of makeup. She also carries a few subway backup metro cards just in case she loses one and misses her train, a journal to jot her ideas in, and a rose quartz crystal to help calm her nerves. Whether or not you believe in the power of crystals, many of our featured celebrities definitely think they're worth the investment.
You've Reached The End