Handbag Essentials: A Look Inside Celebrity Purses
Celebrity life can be tough. That's why when you're a Hollywood A-lister, it's important to have all the essentials within arm's reach and at the ready. You cannot be caught carrying anything less than a fancy designer handbag. Fortunately for our favorite stars, they have all the money in the world to treat themselves to some of the most luxurious designer investments in the market. However, a handbag and what's inside it are two completely different stories.
So what do the brightest stars in Hollywood stuff their bags with? Do they fill them with candies like most of us mere mortals do? Or maybe they like to keep sunglasses just in case they run into some paparazzi? The possibilities are literally endless. So, if you're interested to find out, then keep on reading. Who knows, you might have something in common with some of these celebrity stunners. You can even steal an idea or two for your next designer handbag purchase. Trust these celebs to always know what's in vogue!
Miranda Kerr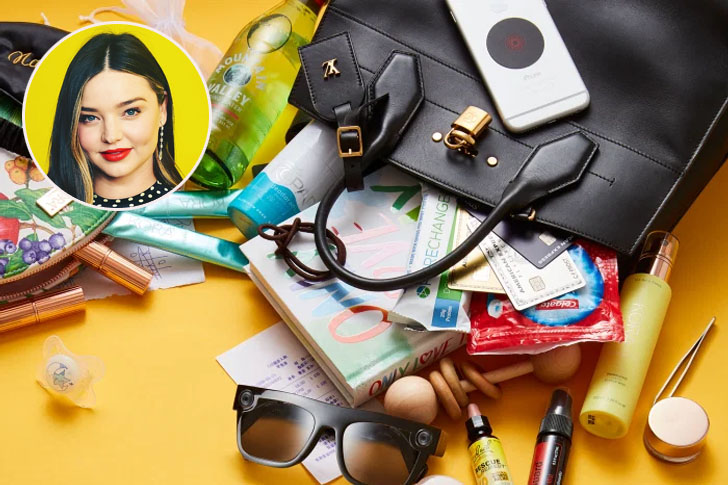 Miranda May Kerr, born on April 20, 1983, is an Australian model and businesswoman. As you can imagine, being a model is not an easy job. Models have to put in a lot of patience, stamina, and hard work to go from castings to casting, and from one country to another. Fortunately, supermodels like Miranda Kerr have all the necessities figured out, and they're all packed and ready to go in her Louis Vuitton handbag.
When traveling, for work or leisure, she brings a comfy sleeping mask, a travel sanitizer, some cleaning wipes, and essential oils. She also brings with her some healthy and organic snacks, a few makeup and skincare products, her wallet filled with insurance and credit cards, a face rose quartz face sculptor, and a bunch of toys and games to keep her kids entertained.